About Us
The mana, or spiritual force and energy flow throughout all things, is the inspiration for our brand. We believe Hawaiʻi's rich landscape and unique culture speaks for itself.
We wanted to create an elevated brand to represent these aspects of Hawaiʻi with a thoughtful approach to modern design, while maintaining traditional values with respect and integrity.
Whether or not you have visited the islands before, our fragrances will evoke all of your senses and allow you to be immediately transported with every use.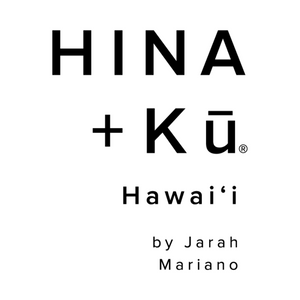 Behind the name
Hina is our moon goddess of the night, who's beauty and grace makes her much sought after. She represents feminine power, strength, and conviction. Hina is complex and shines on us with her many changing faces. Kū is the god of war, change, fishing, and is of the day. A powerful male generating force, he is amongst one of the four great gods alongside Kanaloa, Kāne and Lono. Such complementary dualism is seen in this all-inclusive pair of divine feminine|masculine archetypes. By definition, Kū means "to stand" and Hina "to fall".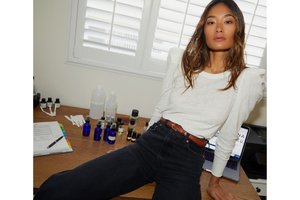 Jarah Mariano
Founder Jarah-Evelyn Makalapua Mariano, is a prime example of the melting pot that is now Hawaiʻi. Born on the island of Kauaʻi, she went on to live in Southern California, New York City for an extended time, spent some time in Australia, and now resides in Los Angeles, California.
With her 23+ years as a fashion model, she traveled the world gaining immense amounts of knowledge and experience with exposure to diverse people, places and cultures. She was the first person of Native Hawaiian and Asian heritage to be featured in multiple brands, breaking the barrier for those to come in the industry. Jarah attended Pace University in New York City at the Dyson College of Arts & Sciences receiving her BA in Speech Communications with a Media Studies Concentration. She returned to live in Hawaiʻi for a term in 2016, where she studied at the University of Hawaii at Mānoa and completed a Hawaiian Studies course at Hawai'inuiakea School of Hawaiian Knowledge.
She completed a Cinquième Sens certificate program for The Technique and Language of Perfumery at Pratt Institute in New York, as well as fragrance mixing and materials courses at the Institute for Art & Olfaction in Los Angeles.
A philanthropist at heart, Jarah has extensive experience with multiple global nonprofit organizations and charities. She is versed in traditional hula kahiko, ʻauana, and Tahitian dance. She leads an active lifestyle and believes in the importance of a well-balanced mind, body and spirit.
(Fragrance creation and collaboration with perfumer Dana El Masri)